Halo 4 T-51 Carbine [gfx+sfx]
24 comments
Halo 4 T-51 Carbine [gfx+sfx]
29.08.12 09:56:23 am
16 like it!
236 kb, 231 Downloads
Majatek
User
Offline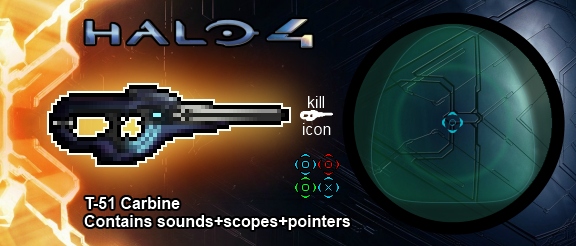 This replaces the G3SG1
I've been busy in real life, thus I haven't managed to work on many new things. This time however I decided to sit down and work on the new Type-51 Carbine that will be a load-out selectable weapon in Halo 4. Over the course of 2 days I worked on the audio and sprites - The first day was mostly spent mostly on perfecting the fire sound as I had to record from existing Halo 4 gameplay, remove ambient noise, and re-engineer the audio so that it doesn't sound muddy or distorted. Overall I'm happy with what I've done here, and I can only hope that you too enjoy using this modification :'3
The T-51 Carbine is a recoil-operated, semi-automatic, charger-fed marksman rifle capable of firing ballistic rounds at significant range. It is somewhat unique among Covenant weapons in that it is not dependent on superheated plasma or other energy-based material, but rather fires radioactively charged ballistic projectiles.
You may distribute and use this as needed, free of charge, providing you do not:
Claim this work as your own
Sell this work
Reupload this work as is
This pack is not to be reuploaded in part or in whole within other projects. Edits of my work is also prohibited. Failing to head these warnings will earn you a report, and a possible ban.
>>>Created by Majateka (
- E-Mail address (visible to registered users only) -
)
As a final note, if your vote is based on size of the weapon, I will disregard your opinions. I have decided to keep skinning CS2D with skins that are similar in size to the default CS2D weapon skin resources.
-Possibly even get a mod to delete your review.
I hope you enjoy my work!
TO INSTALL THE MOD:
Simply open the "Carbine files" folder and extract the gfx and sfx subfolders into your CS2D directory.
To install the reticule and scope as well open the "Scope+pointer files" folder and extract the files contained within to your CS2D directory.
Halo 4 T-51 Carbine [gfx+sfx] by Majateka (
- E-Mail address (visible to registered users only) -
) is licensed under a Creative Commons Attribution-NonCommercial-ShareAlike 3.0 Unported License.
edited 1×, last 29.08.12 09:57:23 am
This file has been reviewed and
approved
by
CY
(04.12.15 09:08:58 am)
Comments
24 comments
Log in!
You need to log in to be able to write comments!
Log in