TCT Player Skins pack
49 comments
TCT Player Skins pack
19.06.11 09:01:27 am
37 like it!
61 kb, 1,076 Downloads
Majatek
User
Offline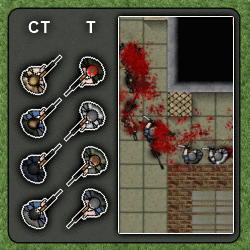 TCT (Terrorist/Counter Terrorist player skins pack)
Well! One of my friends suggested that I should skin some players, so I took on the challenge - This is a first for me, so it may have mistakes, or not, I don't know, but I did the best I could (for my first try anyway!)
As always, CONSTRUCTIVE criticism (not "this sucks and I won't give a reason why") reviews/comments appreciated, after all I'm only learning
You may distribute and use this as needed, free of charge, providing you do not:
Claim this work as your own
Sell this work
Reupload this work as is
This pack is not to be reuploaded in part or in whole within other projects. Edits of my work is also prohibited. Failing to head these warnings will earn you a report, and a possible ban.
>>>Created by RamboFox (
- E-Mail address (visible to registered users only) -
)
I hope you enjoy my work!
TO INSTALL THE MOD:
Simply open the *.zip file, and then extract the "gfx" folders within to your CS2D directory, and accept that you want to overwrite the files that already exist.
CounterStrike TCT (Terrorist/Counter Terrorist) Player Skins pack by RamboFox (
- E-Mail address (visible to registered users only) -
) is licensed under a Creative Commons Attribution-NonCommercial-ShareAlike 3.0 Unported License.
edited 4×, last 07.06.12 01:20:27 pm
This file has been reviewed and
approved
by
CY
(04.12.15 09:15:26 am)
Comments
49 comments
Log in!
You need to log in to be able to write comments!
Log in